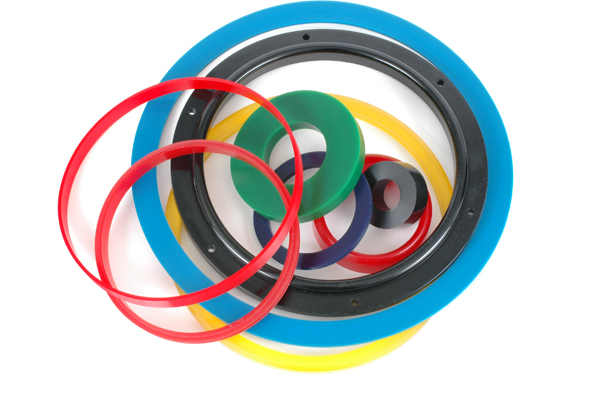 The o-ring made of Polyurethane is also known as a urethane o-ring or a cast urethane o-ring. The SSI Polyurethane o rings are highly in demand because of their superior quality and low costs. 
We guarantee the delivery of these products to our customers, and over the years, we've built a large client base in the marketplace.
The Polyurethane (PU) rubbers can be classified into two varieties: the first is polyester urethane (AU), and the second is polyether urethane (EU).
The AU-type urethanes are highly resistant to oil and solvent resistance; however, they are susceptible to attack by hydrolysis. EU-type urethanes can't be damaged by hydrolysis but still have an oil and fuel resistance similar to Nitriles or HNBRs.
All polyurethanes have excellent wear resistance with high tensile strength and the highest elasticity of other elastomers. We also have the option of offering all thermoplastic urethane (TPU).
SSI Urethane O-rings are generally translucent (clear) with a colour. They have an unlimitable shelf life.
Urethane O-Ring Temperature Range:
Standard Low Temp: -40degC
Standard High Temp: 80degC (176degF)
(A shorter life span that can reach 100degC)
Hardness: 60-93 Deg Shore A is available.
Colour: black, green, orange, and transparent are offered, or you can choose any colour requested by customers.
The SSI polyurethane o-ring can be an alternative to traditional O-rings made from rubber elastomer. Because of the high resistance to extrusion of the polyurethane compound, the SSI pu oring does not require carrying backup rings at high or pulsed pressures. 
O-rings are commonly utilized as rod or piston seals in pneumatic and hydraulic cylinders. 
Polyurethane elastomers, as a group, possess outstanding wear resistance, high tensile strength, and high elasticity compared to other elastomers. Permeability is excellent and is like butyl rubber. We are experts in Polyurethane o-ring manufacturers by market standards.
The extensive range of SSI products is ideal for challenging applications and needs. Require a custom O-ring? Our knowledgeable sales team can provide numerous other O-rings with quick lead times.
Urethane is not plastic! The more the durometer, the more likely an item will break and crack under the force of stress and impact when it comes to plastics. But not so with urethane. Urethane isn't as brittle as plastic and is an elastomer with immense impact resistance, even at extremely high density. 
Additionally, Polyurethane keeps its elasticity and strength across the entire range of toughness. Even at a very high durometer, Polyurethane can be stretched to significant lengths and then return to its original size.
Even with the toughest urethanes, you can get impressively better resistance to impact than composites and plastics.
O-ring belts polyurethane used in printing machines is colour-coded to ease maintenance and promptly replace them.
POLYURETHANE RUBBER O-RINGS FEATURES:
Excellent Wear Resistance.
Poor Compression Set Resistance.
Excellent Short-Term Resilience.
Resistant against pure hydrocarbons (propane-butane, propane, fuel)
There is resistance to silicone and mineral hydraulic fluids, oils, gasoline, and greases.
Resistant to oxygen.
Resistant to high-pressure impacts, cutting, cracks, or heavy loads.
Excellent abrasion resistance.
Weather resistance Excellent
Tensile strength: Excellent
Resistance to tears Good to excellent.
Cold resistance Good.
Impermeability: Fair to excellent.
Dynamic resistance The value is fair.
Electrical properties: Fair
High durability.
Flexibility: Long-lasting.
It is suitable for fully automated installation.
SSI POLYURETHANE RUBBER O-RINGS LIMITATIONS:
Not immune to Ketones.
Not in any way resistant to Acids.
Not refractory against Auto / Aircraft Brake Fluids.
Not susceptible to Chlorinated Hydrocarbons.
Not resistant to water.
It is not compatible with esters, alcohols, ethers, and glycols.
It is not compatible with alkalis or Amines.
Not suitable for use with hot water.
Chemical resistance Poor.
Resistance to flame Poor.
 Water steam resistance is Poor.
Chemicals that are suitable for specific needs of the chemical process industry.
Compounds that are suitable for specific needs in industries that process food.
Installation in an undercut and closed housings.
It can be used to fill O-ring grooves already in place.
Other dimensions of machines with short lead times.
Suitable for Polyurethane is resistant to extrusion and general toughness.
Please do not use it in applications that require excellent heat resistance and will not be appropriate for Polyurethane.
Applications of Polyurethane o rings:
Polyurethane O-rings are typically used for mechanical applications, particularly in areas that require more wear resistance and greater strength. 
Polyurethane O-Rings are particularly suitable when O-Rings are exposed to dynamic loadings. It includes, for instance, applications in hydraulics, pneumatic devices, valves, firearms, and a wide variety of other areas that require attention. 
In many cases, Polyurethane O-Rings are utilized in place of NBR due to their strong mechanical properties. Excellent results have been obtained, for instance, in pneumatic valves used to seal the main control piston pilot. The most common applications are seals for industrial use, roller, O-Rings and caster wheels, conveyor belts, and gaskets.
Polyurethane can provide as much as ten times the services of Nitrile rubber.
Since the beginning, SSI has offered custom pu orings standards and sealing solutions for various industries. We have the expertise you need to ensure the success of your project.
"O"-rings are also used as seels. The rigid polyurethane material makes them ideal for high-pressure or pulsating applications. A proper gland size is essential to ensure a good seal.
O-rings are crucial sealants that are simple and affordable to put in. Because of this, O-rings are used extensively in pneumatic, hydraulic, and various gas and liquid systems. O-rings can be found in a broad application space in all areas and are particularly useful in fields of critical importance like aviation, space, and medical technology. O-rings can be utilized in dynamic and static applications when an appropriate operating environment and suitable materials are available.
We offer a wide selection of double and single-acting seals, including wear rings and anti-extrusion and wipers. They also work for use in pneumatic systems.
As compared to other sealants, O-rings have a smaller footprint and offer two-way sealing so that designs are easier. They are also less chance of installation mistakes, For the best O-ring outcomes.
SSI also offers a broad assortment of rubber seals and O rings for applications. We have o-rings made of Polyurethane in standard inches and metric sizes and customized profiles and configurations tailored to your requirements.
Submit Your Enquiry Details
Customer relations with transparent communication ...
Submit Your Enquiry to Get Instant Response!